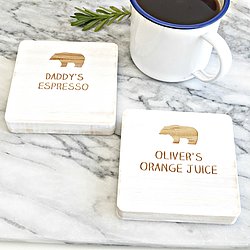 EdgeInspired Ltd offer a range of personalised and handmade gifts and homeware, from wooden keepsakes to industrial furniture, plus gorgeous wedding gifts and mementos. Everything is handmade in their workshop in the New Forest, Hampshire.
Beautiful hand crafted gifts that are made for your moment. Be it a wedding, Christening, the birth of a new baby or just to let someone know you are thinking of them our products celebrate those special family moments and become gorgeous keepsake gifts for friends and family to cherish.
EdgeInspired was founded in 2011 by Charlotte and her partner Stuart. It was our evening walks along the beach that first gave us the idea for our business name. Over time our nightly phrase 'shall we go for a walk along the beach?' became shortened to 'shall we go to the edge' and because much of our inspiration comes from walking by the shore the name EdgeInspired was born.
With a wealth of ideas inspired by happy memories, our family and friends and with many of our products developing as a direct result of a special gift made for a loved one. Our products are perfect for all events and occasions.
We are honoured to think of our products being used to celebrate so many special moments in other people's lives, helping them make memories.
Working from our New Forest Studio, Charlotte and Stuart now have a dedicated and hardworking team who are as passionate as they are about creating your perfect personalised gift. They are proud that their products are designed and created in-house and made using locally sourced materials where possible.
We are currently expanding our range of homeware to include industrial style furniture.
We love hearing back from our customers and just today received a lovely message from a lady to say how happy her mum was with her personalised wooden star keepsake and how receiving it had made her day.
These special messages always make us smile.
Please don't hesitate to get in touch to discuss any corporate or bespoke requests. We are always happy to hear from you and will do our best to help.