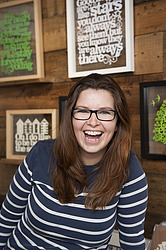 SHORTLISTED FOR 'Handmade Product of the Year 2012' and 'Personalised Product of the Year 2013'
Hello, I'm Kyleigh and I have always had a bit of a head for lyrics, a love of typography and a nerdy fixation for cutting intricate things with a scalpel. So when I designed and hand cut my first ever papercut in 2010 it was a fusion made in my personal heaven and Kyleigh's Papercuts was born.
From my cute riverside studio/shop in beautiful Wimborne I design and handcut personalised sentimental gifts which are ideal for weddings, anniversaries, milestone birthdays and to celebrate your wonderful family unit.
When I am not designing or cutting, I can be found walking scruffy studio dog Archie by the river or teaching paper cutting workshops to wonderful groups of scalpel-wielding folk.
Take a look at my products and if you have a special commission in mind, do get in touch - I'd love to hear from you.