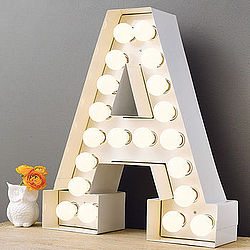 ' The Letteroom' won the notonthehighstreet award for "Entrepreneur Of The Year 2011" and was Shortlisted for "Best Start Up Business 2012 " and has also been awarded 'PARTNERSHIP OF THE YEAR 2014"
Time to get up close and personal and give a gift that is personalised for the recipient.
It is all about the letter - typography is the buzz-word at the moment and Sherrie Mead and Jackie Jackson have a passion for letters.
We started The Letteroom in 2009 as a dedicated online boutique selling the alphabet in a wide range of styles and materials. Whether you are looking just for an initial or you want to say your words loud and clear in jelly, in candlelight,or in neon lights, we stock a dazzling array of personalised products - so time to spell it and give it.
"Love letters Love the letteroom."