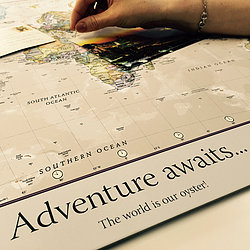 Maps International offers beautiful mapping with a strong focus on design. Our wall maps are the perfect addition to your home interior décor providing a fantastic focal point.
Designed by specialist map makers, our team of cartographers create beautiful maps. Detail as well as design is what we do best. Our philosophy of 'good cartography' is what we hope people will love and appreciate.
Our maps are printed and dispatched from our premises in Oxfordshire.
As well as being popular for functional use our maps are perfect as gifts or for the individual decorating the home. Whatever your requirement, interest or decor style, we're sure to have the map you want.
Choose from a selection of beautiful mapping products available in a range of finishes. Our range includes personalised maps, great for the travel enthusiast and an opportunity to reminisce about travels and plan new trips. Our popular Scratch the World is a fun way of marking off destinations and features quality map detail. Specialists in large maps, we have wall maps and map wallpaper which are sure to make an impact on your wall space. We also have a range of maps suited to a child's bedroom.
We hope you will love our vibrant and original maps as much as we do!