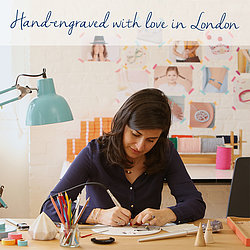 Welcome to Merci Maman, hand-engraved jewellery made with love in London.
We were founded in 2007 by Beatrice, a young French mother of four who wanted to provide an easy way to shop for a wide range of original and charming gifts for babies, girls and boys, mummies, daddies and grandparents.
We are now a team of twenty working to create the perfect gifts for you and your loved ones. Our bespoke jewellery collection is hand engraved with our French handwriting in our studio in London and all our charms are made from hallmarked sterling silver and high quality gold plate.
All gifts are unique and ideal for a special treat or special occasions such as births, christenings, weddings, Mother's or Father's Day. Gifts include men's accessories and bracelets, women's accessories, bracelets and necklaces and personalised children's jewellery and other specialist gifts.
We have been working with customers in all over the world always putting customer satisfaction as a priority (see customer comments) and we have also received coverage in several respected fashion blogs and magazines including The Times, Hello Magazine, The Daily Mail, Glamour, Stella, ...
We deliver in the UK in less than 3 days and we offer the express delivery on all our jewellery products if you need to speed up the delivery.
If you have an important deadline or a special request please feel free to contact us by clicking on the 'ask the seller a question' button.