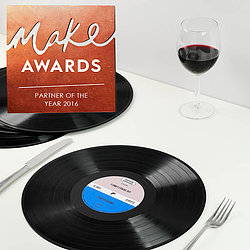 Remember how brilliant it felt to receive a mix tape? We Pixies at MixPixie believe that the gift of music is one of the most unique and thoughtful gifts you can get, so why not make it personal? Dubbed by the UK press as 'Moonpig meets iTunes' at MixPixie we're extremely proud to be the only company in the world that allows people to create truly personalised music gifts, from our personalised CDs to our nostalgic mp3 players and best-selling sound wave prints.
All our products are individually made by the Pixies at our studios in Richmond and we have for instance over 1,000 CD designs for personalisation and with over 32 million tracks to choose from, across a huge range of different products, so you won't be disappointed. Fans of vintage design will love the way we approach creating new products, with our latest range using recycled vinyl records to construct wall clocks, placemats and stunning framed floating records.
Music has the unique ability take us back to a specific memory or point in time, unlike any other media. Combine this with high quality presentation, some fun ideas and a love for great gifts, MixPixie was born.