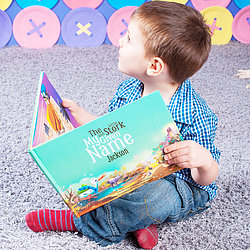 The My Given Name Personalised Books are the perfect gift for children from newborn to 6 years old. Magical books personalised for a child's name.
For an amazing story why not look at The Little Stork & My Given Name - it is a fun and magical way to introduce your child to positive thinking. It uses a child's first name, gender and even ethnicity to create a unique story book just for them, using positive messages and affirmations about how special they really are.
The story follows our central character in the book, Little Bindee the Stork. Bindee has been told that he cannot fly by the other storks around Given Lake. In the story he is asked to deliver a baby home. The baby will be the name of the child you enter into the personalised name field. On his journey, to collect your baby, he will meet some animals and each one will have a very special positive message. They will have a special gift or a special characteristic they will share. Maybe they know – "they are lovable" or that they "can achieve anything with hard work" or even that they "like to eat healthy things".
For a mix of the modern and traditional we have created My Book of Nursery Rhymes. Songs, lullabies and personalised poems based on your child's name. As with all our books, we choose award winning illustrators to add a special magical twist to each rhyme or poem. Ideal for Christenings, Naming Days and any special occasion.
To compliment our personalised book products we have also created wonderfully colourful products from canvas to wallpapers - all with that special personal touch!