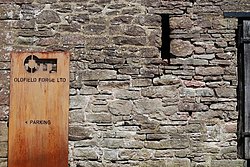 Oldfield Forge Ltd is a family run traditional blacksmithing forge that specialises in handmade ironwork using traditional techniques and combining modern technology.
We also offer leisure packages for people to step into the world of a blacksmith. Blacksmithing is an old and noble craft, using heat and hammer to forge practical or decorative items from raw iron.
At The Academy, you can feel the power of creating your own sword, ring or other keepsake with your own hands. We offer a series of fun packages for families, friends or couples as well as corporate team-building or Christmas party events and vocational courses for future blacksmiths.
If you're looking for an unusual venue for a celebration, a stag or hen party or even a romantic evening out, take a look at our fabulous packages, and if we haven't covered exactly your event then please get in touch and we'll enjoy helping you to plan your special day.
With added extras such as BBQs and picnics in the woods, every package is completely customisable.