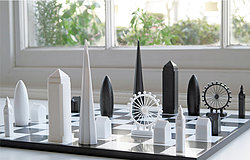 Skyline Chess is a London based company that designs and makes unique and original chess sets inspired by the cities we live in. Born out of a love of architecture and chess, we re-imagine some of the world's most iconic buildings as chess pieces and bring them to life on the chess board. Original and striking, our sets appeal not only to the chess entuhsiast, but to those with a love of design.
Our sets comprise of carefully selected buildings which work both as a playable chess set for those who want to topple the might of Canary Wharf, but also as a collection of beautiful objects, perfect for any coffee table.
We design our cities using 3D printing technology to carefully prototype the selected pieces and ensure that we have the correct size, proportion and detail. From here we manufacture using high quality materials and weight each piece to give them the correct feel when playing. Our sets are finished in classic black and white and suit any chess board.
We also love to make unique, one-off pieces too, so if you have a commission in mind please drop us a line.
We run a green store and so we use recycled packaging wherever possible.