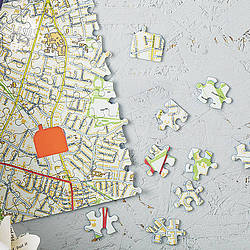 At TheLittleBoysRoom we all love the big and little men in our lives but boy are they difficult to buy gifts for! So we decided to venture out and discover lots of unusual and interesting products that would make gift buying for men a little simpler.
We also run another company called the letteroom and whilst we were looking out for wonderful lettery products we kept spying lovely, unique gifts for boys big and small. So we decided to launch the littleboysroom, and no men's gift company could be without the best VW tent in the world...and no driving licence needed !
We hope you enjoy our new products as much as we do, and gift buying just may have become a little easier!
If you would like to see more unusual gifts take a look at our other shop "THE LETTEROOM" where all things alphabety and fun can be found !.
Our Stitch A Map Postcard was short listed for the noths "Innovation Award "