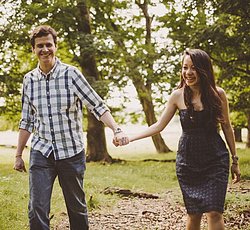 Welcome to the world of Wue! We create jewellery and gifts that are full of meaning and made with love in sunny England.
We are a Mr + Mrs team having come through from the corporate world, the pressure of having a gemmologist father (who knows so much more than you!), a career in law and even a stint at Tiffany & Co.!
Inspired by our love of words and gifting, the idea for each creation from Wue is based on a gift we have made loved ones or each other including our much loved 'Friendship is a knot that cannot be untied' friendship knot earrings. These were originally made as a gift for a long lost friend when we reunited some 15 years later. When we realised how much the sentiment of the gift touched her, we decided to create a collection of jewellery and gifts that would do just that. Because after all, it is the little moments that are so utterly special.
All of Wue's collection is designed and created by our team, inspired by personal little sayings and scribbled notes to loved ones, which are then turned into lovely products using high quality materials, printing and finishing at Wue HQ in the Chilterns.
We love what we do and we create 24/7 in the hope that our motto 'do small things with great love' will shine through to bring you gifts that you would enjoy choosing and giving. We hope you enjoy exploring our little world and we hope we can help you make someone feel giddy, hopeful and special.